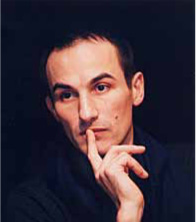 Born in Paris, Jérôme Kaplan studied Scenography at the Ecole de la Rue Blanche (ENSATT) in his native city. After graduating in 1987, he began working extensively, designing sets and costumes for theatre and opera.

In 1992, he collaborated with the Ballets de Monte-Carlo and Jean-Christophe Maillot for the first time on "L'Enfant et les Sortilèges". Since then, he has designed sets and costumes for the productions of "Romeo and Juliet", "Cinderella", "Casse-Noisette Circus", "Œil pour Œil" and "Scheherazade".

In 2001, Jérôme Kaplan became the first French scenographer to collaborate with the National Ballet of China in Beijing, where he created costumes for "Raise the Red Lantern", staged by director Zhang Yimou.

Jérôme Kaplan showcased his talents in many ballets: with Bertrand d'At for "Le Prince des Pagodes" at the Opéra de Strasbourg, "In the Mood for Love" performed by the Shanghai Ballet Company, and with Karine Saporta for "Feu le Music Hall" at the Comédie-Française and "Dans le Regard de la Nuit" at the Cairo Opera House. He also teamed up with David Nixon on Northern Ballet's "Ondine", "A Sleeping Beauty Tale" and "The Great Gatsby". Other recent ballet work includes: Christopher Wheeldon's "The Sleeping Beauty", Ib Andersen's "The Kermesse in Bruges" for the Royal Danish Ballet, Nacho Duato's "The Nutcracker" for the Mikhailovsky Theatre in Saint Petersburg, the Teatro alla Scala in Milan and the Deutsche Oper in Berlin, Johan Kobborg's "Don Quixote" for the Yacobson Ballet of St Petersburg, Lucas Jervies's "Spartacus" for the Australian Ballet and Stanton Welch's "Sylvia" for the Houston Ballet.

Since 2010, Jérôme Kaplan has joined forces with Alexei Ratmansky to create the sets and costumes for "Don Quixote" for the Dutch National Ballet, the world premiere of "Lost Illusions" for the Bolshoi in Moscow, for which he won a Golden Mask Award in 2012 for Costume Design, "Cinderella" for the Australian Ballet in Melbourne, "Paquita" for the Bayerisches Staatsballett in Munich, "Swan Lake" for the Ballet Zürich in coproduction with the Teatro alla Scala in Milan, "Serenade after Plato's Symposium" for the American Ballet Theatre at the New York Metropolitan Opera House, "The Fairy's Kiss" for the Miami City Ballet and "La Bayadère" for the Staatsballett Berlin.