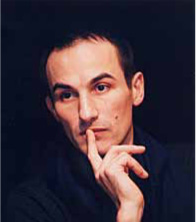 Born in Paris, Jerome Kaplan studies Scenography at "L'Ecole de la Rue Blanche" (ENSATT) and signs, from his exit in 1987, the costumes of three operas staged by Ariel Garcia Valdès, The Barber of Seville of Rossini, Don Quixote de Massenet, Montezuma of Vivaldi and two works: Fludde Noye's of Britten and Journal d'un usager de l'espace (text Georges Perec – music Didier Lockwood) staged by Charlotte Nessi and produced by the Bastille Opera.
In 1991, Jérôme Kaplan discovers the world of Dance when he meets the choreographer Jean-Christophe Maillot, since he conceives sets and costumes of numerous ballets : L'Enfant et les sortilèges, Roméo et Juliette, Cendrillon (Cinderella), Casse-Noisette Circus, Œil pour Œil (Eye for Eye) and in December 2009 the ballet Scheherazade, sets and costumes, for Les Ballets de Monte Carlo.
He creates the costumes of the ballet Raise the Red Lantern staged by the director Zhang Yimou, choreographed by Xin Peng Wang for the National Ballet of China in Beijing. He draws sets and costumes of the ballet The Prince of the Pagodas of Britten with Bertrand d' At for the Opera of Strasbourg and In the Mood for Love for the Shanghai Ballet in China ; The Wood Nymph of Sibelius with Xin Pen Wang for the national Ballet of Finland; with Karine Saporta : Feu le Music Hall  for the Comédie-Française and Dans le Regard de la Nuit in the Opera of Cairo ; La Fille mal gardée by Hérold and Hertel for the National Ballet of Korea in Seoul ; Ondine choreography by David Nixon for the Opera of Strasbourg and A Sleeping Beauty Tale for the Northern Ballet of Leeds in England ; Ringaren (Notre-Dame de Paris) choreographed by Pär Isberg for the Royal Opera of Stockholm.
Jérôme Kaplan also continues an opera and theater career: Carmen Arabo-andalouse according to Bizet and The Abduction from the Seraglio of Mozart staged by Olivier Desbordes ; The Turn of the Screw of Britten directed by Sandrine Anglade for Angers Nantes Opéra ; L'Âne et le Ruisseau of Alfred de Musset directed by Nicolas Lormeau for the Comédie-Française ; When the Night begins of Hanif Kureishi staged by Garance for the Théâtre National de Chaillot.
In 2010, he created sets and costumes for Don Quixote choreographed by Alexei Ratmansky for the National Ballet (Het Nationale Ballet) in Amsterdam and for the ballet Tornerose (Sleeping Beauty) of Tchaikovsky with Christopher Wheeldon in the Royal Ballet of Denmark (Det Kongelige Ballet) in Copenhagen. In April 2011, Jérôme Kaplan designed sets and costumes for the world creation of Lost Illusions choreographed by Alexei Ratmansky according to Balzac, music by Leonid Desyatnikov, in the Bolshoi Theater in Moscow - Golden Mask 2012 Best Costume Designer.